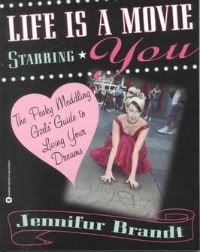 Were you a Pesky Meddling Girl?

I remember when Life is a Movie Starring You first came out--a kitschy workbook to navigating teen and tweendom with old-Hollywood panache, stuffed with quizzes, paper dolls, and spots to doodle and dream about your future. Author of a cute, quirky zine of the same name, Jennifur Brandt held us enthralled...but then, all of a sudden, the PMG empire disappeared.

Or did it?

Vintage L.A. is Jennifer Brandt Taylor's guide to all things glam and old fashioned in the real Shangri-L.A.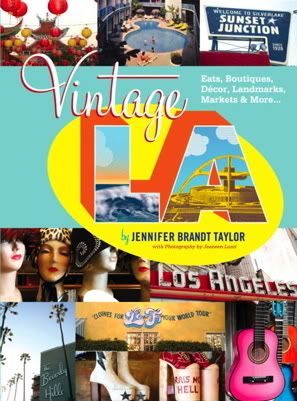 Brandt showcases the best of vintage life, including famous Los Angeles hot spots such as:

•The Rose Bowl Flea Market–a great place to find antiques
•Sunset Hyatt House–dubbed the "Riott House" because of its sordid rock n' roll past
•Mashti Malone's–where else could you find Iranian rose water ice cream?
•Bob's Big Boy–where the Beatles ate on their first US tour
•Chateau Marmont–Hollywood's decadent vintage love nest
•and many more.

Brandt's unique old Hollywood voice will carry the reader through these spots, revealing historical information, juicy star–studded stories, and delightful anecdotes. Vintage Los Angeles is the dreambook for any stylish, secondhand soul with a vintage aesthetic, appreciation, and absolute love of "the hunt." Complete with interviews with famous vintage–collectors, indie bands, actors, and Hollywood connoisseurs, Vintage Los Angeles is a trip down memory lane with a modern and delightful edge.

Doesn't it sound absolutely swoonworthy? I've been eagerly awaiting its arrival since last year--and by the by, Vintage N.Y. is in the talks as well. Vintage L.A. debuts tomorrow; you can keep an eye on the action at its Myspace page, and Jennifer's blog.

All well and good for those on a vintage gown safari, or Hollywoodaphiles, but what to give to your younger siblings in need of a glittery guide to life? Enter Lisa Clark, mistress of Pink World and author of the Lola Love series, dishing out exuberant advice in an over-the-top fabulous style, feisty and diva-ish in a kick-butt, girls-are-doing-it-for-themselves way.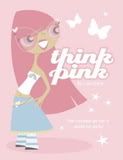 I love living life in the pink, so will offer you exclusive access to the most exciting, sunshine-filled, full-to-the-brim, world of opportunities and possibilities that all become totally do-able when you Think Pink.
Y'see, when you Think Pink, you dream hugely, you're inspired by the world around you and wear whatever you want without fear of ridicule. You become a 'Go-For-It' girl with a lust for life who refuses to take 'no' for an answer and, most importantly, indulges yourself on a regular basis because, quite frankly, you're worth it.

Dip into the Think Pink Manifesto, and tell me if you don't see a twinkle of pesky-meddlingness in Ms. Lola's eye. Charmed? The Lola Love series are UK exclusives at the moment, but psst, The Book Depository has free shipping to the States.