A dear friend reminded me of the (apparently ancient) rumor that the Rocky Horror Picture Show is being remade.
Now, with MTV at the helm this could be quite the questionable venture. If I were to cast it? It would be a thing of beauty and a joy forever; that is, if you're the type that paints your nails blue and still listens to Sleater-Kinney. My dream cast follows:
Rufus Wainwright as RiffRaff--he's handsome in a wilted lily sort of way, has a this purring ironic voice and a great sense of theatricality. Perfect. Watch him in "Rules and Regulations" and "April Fools" (Bonus: Guess which lady matches up with which opera).
For Magenta, Beth Ditto. I'm convinced this woman is Divine reincarnated, in all the best possible ways, and her raw rock-star vocals and love of camp make her a fantastic candidate. You can watch her and The Gossip performing "Standing in the Way of Control" for a taste.
Now I'm a tad biased as I have a wicked crush on the lad, but I couldn't see anybody as Eddie but the painfully gorgeous Lucas Silveira. Those eyes! That voice! Those guitar licks! Catch me before I swoon again, and catch him and his band, The Cliks, in their videos for "Oh Yeah" and "Complicated" (with Margaret Cho!)
For Eddie's main squeeze and Dr. Frank's spurned love Colombia, who but the gloriously strange and dark and lovely Amanda Palmer? Of course, nobody can beat the goddess of rock herself, Joan Jett, in the Broadway run, but can't you just see her belting out Colombia's lamentations and giving Frankie what-for? See her video for "Leeds United" and judge for yourself.
For poor, sweet Janet, I picked Kristen Bell. She's already shown off her naughty-and-nice sides in Reefer Madness. Take a look at her in "Romeo and Juliet" (and then watch the rest of the movie, because it's great).
My friend Louie suggested Dan Radcliffe for Brad. I laughed so hard I pulled something. Consider him a placeholder till something better comes up.
For Mr. Rocky Horror himself, I've taken the liberty of picking Rob Pattinson. Blasphemy, you cry? Oh, but all he has to do is stand around and show off his glittery man titties, just like in Twilight. When even your professors think the man beautiful, you know you have a winner. Too thin, you say? Well, he came out of the tank a bit shrunken--cold water and all.
I made Anthony Head the Crim on a friend's suggestion (also, because he has no neck, see?), but Eddie Izzard as Dr. Scott? All my fault.
Oh? Have I forgotten somebody?
Ahh, yes.
Dr. Frankie...herself.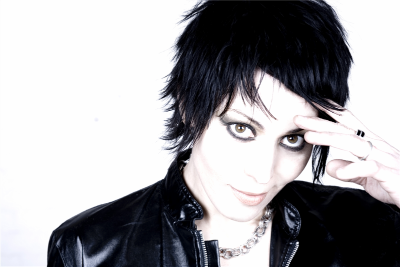 Yep. I did it. But men in heels isn't transgressive anymore, that's a Thursday night sitcom's subplot. But a woman pretending to be a man pretending to be a woman, fooling around with Mother Nature and anybody else who shows a bit of thigh, and committing heinous crimes all for a bit of attention? That's hot!Take a look at her in "AC/DC," and see what you think...but don't tell it to me, I'm sold.
There's my dream cast. Tell me yours!