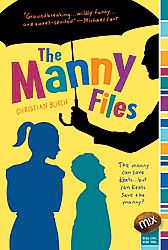 The manny told Lulu to wear lots of feathers and sequins like Liberace. India told me that Liberace is a fancy French cheese that is served with red wine. I guess you wear feathers and sequins when you eat it.

I'm going to order it the next time I'm at a fancy restaurant.

This book is wasted on the young.

Harsh words from a sunshine-and-daisies blog, I know. But truly. The Manny Files, by Christian Burch, is a book for cool aunts, savvy librarians, and well-meaning older sisters to gift to their lucky younger charges. When they do, the kid will enjoy the over-the top exuberance, crazy family situations, and general warm fuzziness.

The adults, however, will get all the jokes.

Keats Dalinger is a misfit, even in his own weird, artsy, loving family. Oldest sister Lulu is precocious and knows it, a girl who dresses like Frida Kahlo for Halloween (complete with papier mache heart) and . India, the next in line, charms all with her flashy outfits and assertion that she'll "get by on her looks." Youngest sister Mirabelle, called Belly, likes making potions in the kitchen but doesn't like wearing clothes. Keats loves three things: writing, making art, and quality clothing. (His birthday purchase? A pair of red cashmere socks.)

Enter the male nanny, called Manny: the long-lost child of Auntie Mame and the Tenth Doctor, bald, bespectacled, and with enough savoir faire and manic energy to charm 3/4s of the Dalinger clan. He picks the kids up from school in costume, holds theme dinners complete with surprise pinatas, and packs tropical fruit in their lunches. His charm and genuine love for life touches everyone they meet.

Lulu, naturally, hates him. Thus, she starts The Manny Files, carefully noting all of his offenses. These range from fort-building to impromptu musical numbers to . With the manny's injunction to "Be Interesting" on his mind, he finds that Lulu's shadow is no place worth living in, and comes into his own talents. While dealing with unruly bullies and his beloved grandmother's illness, Keats finds that being his own person and refusing to back down from his beliefs leads to true happiness. Awww.

The Dalingers are destined to go down in kidlit history as one of the warmest, happiest families you've never met, right next to the Krupnicks and Penderwicks. Lulu's a pill, but Keats's narration always gets one over on her pompousness; if that doesn't work, saying "armpit" will send her running from the room. The parents are more of an enigma than canasta-playing Grandma or Uncle Max, who paints naked people reading books, but their love for and acceptance of Keats' unique personality is touching and very, very important. (His idea of the perfect surprise dinner guests are Elizabeth Taylor and Andy Warhol. I love him.) It warms my heart, truly, that books like this are published. The writing style is simple but the humor is quick, and pop culture reference that lose younger readers will set their elders howling. I can see how some would say that the Manny's personality is playing to a stereotype, but I know many people like him. You may know one too, someone that delights everyone they meet, always has something fun up their sleeve and takes the time to truly listen as well--and I don't think it's limited to any one orientation.

The Manny Files is funny, eccentric, and life-affirming; it's recommended with all my heart.

(P.S.: I totally want to be The Manny when I grow up. As a children's librarian.)

*Read an excerpt from The Manny Files
*Christian Burch's webspot on SimonSays.com
*His brand-new website
*His blogfest postings
*Fuse #8's wonderful review (Betsy Bird is my blogging idol.)
*The sequel, Hit the Road, Manny, comes out in September. I'll be reserving my copy!