Confession time: I can be swayed by pretty things. That's how I discovered the joys of Patricia A. McKillip and the Girlosophy books. Tonight while gathering links, I ran across these two beauties by Maryrose Wood: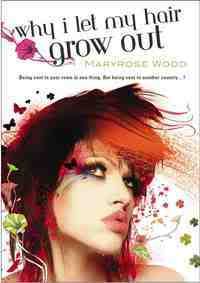 WHY I LET MY HAIR GROW OUT tells the story of Morgan, a heartbroken Connecticut girl who chops off all her hair in a fit of angst after her boyfriend dumps her on the last day of school. Her frantic parents spring into rescue mode and send her on a "let's-help-Morgan-get- over-it" vacation.
Before you can say ow, my butt hurts, Morgan is biking her way across Ireland, where a most unusual accident sends her tumbling back through time to a magic, long-ago word full of faeries and enchantments. She even meets a hunky warrior-dude named Fergus who really knows how to treat a girl who's part goddess — guess who that turns out to be?

***


[How I Found the Perfect Dress finds]..soon-to-be-seventeen-year-old Morgan Rawlinson, snarky Connecticut teen and half-goddess from the long-ago days of Irish lore, takes another wacky romp through the faery realm.
This time it's Colin, her own freckle-faced Irish hottie, who's under a strangely yawn-inducing spell. To save him, Morgan has to find a leprechaun. In Connecticut. And that's only the beginning!
This book has magical prom dress shopping, a rather unusual game of mini-golf, and a special guest appearance by Gene Simmons. Seriously. I hope you have as much fun reading it as I did making it all up.
Color me bemused. I may just have to check these two out. (
Kiss the Pages
has the Fae in it. It's
research
.)