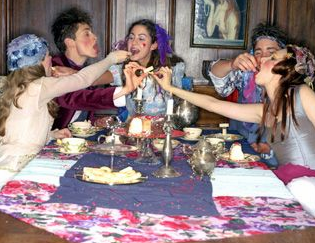 Photo by Alice's Tea Cup

I arrived on this planet 23 years ago today, and I'm celebrating with lunch at Alice's Tea Cup with two good friends, and then a bit of adventuring around Union Square with a visit to my old Place of Internship. Some of my amazing friends have gifted me already, and I'd like to share their art with you.



Callan is the secret love child of Hillary Knight and Mary Blair, but you didn't hear it from me. If you care about me, you'll just have to care about her too, because she's the other half of my brain and our wands have the same core. We enjoy the bon mots of Oscar Wilde, giggling at ridiculous hats, and plotting world domination by cute things. This is her portrait of me; the spiked wheel is for St. Catherine of Alexandria, patron saint of librarians, and the unicorn...well...why not a unicorn?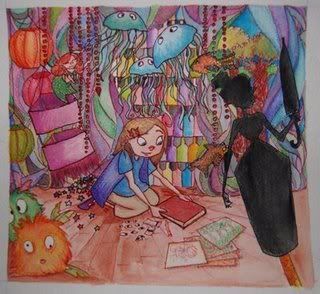 Krista will be the next John Lasseter some day, just you wait and see. She can leap tall storyboards in a single bound and sketch faster than a Pratt freshman on a quad mocha and a thesis due the next day. Recently, she spent a week here, where we left secret messages for visitors to Governor's Island, painted the roses (and my hair) red, and stood in defiance of the rain on my parade. She's drawn an illustration for the picture book I've written, Dear Mrs. Winterbloom.