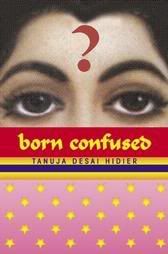 Sometimes it's harder to write about the things you love best. Born Confused, penned by Tanuja Desai Hidier, is easily one of my favorite books, an epic coming of age tale that I've put off reviewing too long for fear of not doing it justice.

Dimple Lala has your typical YA-girl teen experience. Her parents don't understand her, her best friend's gone loopy for the wrong guy, and she has distinctly bad luck in the dating department. Here, your resemblance to the typical YA-girl teen book ends. Born Confused is a tour de force of artistic and cultural discovery, a story about finding out who and where you are and learning to love it and work it, filled with gorgeous descriptions of her world, fusion outfits and her mother's Indian cookery and the brilliant gatherings of minds and matters that become important to Dimple for the first time.

On the eve of her sixteenth birthday, Dimple hits bottom, stuffed into a slinky white outfit, drunk on cheap alcohol, and stuck on a blind date with a creepy artist dude who expects her to be an Indian love goddess. The only place left to go is up, and a birthday gift from her sympathetic cousin Kavita leads her to a summer discovering new facets of her Indian identity and the exhilirating community gatherings happening a hop, skip, and bridge and tunnel away in New York City with her beloved camera, Chica Tikka, along for the ride:

A woman was singing, after all the man vocals, with a scorchingly sweet voice that sounded like India herself, mingling with the prodigy of the deer-eyed, mud-caked rapper, all atop an ever-weaving tapestry of sitar and snare and cachunking key. Somehow, the music felt exactly right. It was full of as many emotions as a bite of bhel puri; it crunched and it spilled and it lingered and was gone in a heartbeat.

While this newfound interest brings her closer to her parents (in a lovingly drawn, natural manner that's a joy to read), conflict arises when her best friend/supertwin Gwynn decides to adopt the exotic aspects of Dimple's culture as her own--including Karsh, aka DJ Gulab Jammin', subject of a failed matchmaking session by the Lala's who becomes a reluctant crush. So much is in these 500 pages: family secrets, bursts of humor (the dialogue is especially witty and creative, with lots of made-up slang and catchy little phrases coming from Gwynn's glossy lips and dry wit from Dimple's mother), stunning imagery in saturated color and a deep message about being who you are:

And this much was clear now: It was no passive homogenous creature, identity, but rather diversity, a thrashing grind and all-out dirty dancing together. It moved and it grooved and it might even sleep with you before marriage. You were the dancer and the dance, and you could shape yourself through a riff, or a shrug, or an on-the-back spin, adapt to new rhythmns without losing a sense of harmony with yourself. And harmony, that was no static thing either, but so many different parts coming together to sing the same song.
And the beat, well. The beat you had to follow was your own heart.

A thing of beauty and a joy forever, Born Confused is not to be missed.

*ThisIsTanuja.com is Tanuja's home on the web
*Born Confused has a companion album, When We Were Twins. If you love folky art-rock with an electronic spin, give Tanuja's band a spin
*Tanuja interviews: Bookslut, MyBindi
*Want a crash course in the music from the book? Bollywood for the Skeptical is my favorite mix cd's worth of Bollywood tunes.
*Back in Oh-Four, I saw Tanuja's band, San Transisto. Here's my writeup of that night.