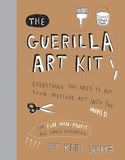 Despite serving my undergrad sentence at a painfully normal small liberal arts college, I managed to make the acquaintance of the few eccentrics that dared disturb our universe. One of them was a blithe spirit who wore kitty ears and hula hooped for fun and profit. "Here," I thought, "is the first guerilla artist I've ever had the pleasure of meeting in person." While we never quite carried out our plan to chalk quotes up and down the byways of Central Park, I tried to carry a little of E's nonchalance into the world at large.
Wait, you say. Guerilla art? What's that?
(My father asked if it's when people dressed up like gorillas and let animals loose at the zoo. I told him not to say that too loud, or he'd give people ideas.)
Technically, yes. According to Keri Smith, artist and philosopher, guerilla art is "any anonymous work...installed, performed, or attached in public spaces, with the distinct purpose of affecting the world in a creative or thought-provoking way." Think of that frozen-moment-in-time-at-Grand-Central video that's been making its way around the net. Of course it could be just beautiful, but even adding a beautiful thing to your everyday environment will make people stop and think, and isn't that what art's all about?
The Guerrilla Art Kit
has a nice blend of theory and practice. Smith's words on her own experience and research in the world of guerilla art will make you want to get out there and start slapping eyeballs on your neighborhood parking meters and mixing up batches of
moss graffiti.
There are instructions for making seed balls, wheatpaste, and freezer paper stencils, illustrated in Smith's deceptively naive style. Mindful of ecological issues and the current social climate, she stresses impermanent, eco-friendly work that does not permanently deface the environment you are in. Dozens of exercises encourage the reader to send passers-by on a scavenger hunt in your neighborhood, create wish trees and portable idea dispensers, and leave books and Polaroids for the taking. The last section of the kit (a sturdy little covered spiral-bound book printed on thick paper, the better to stash in your bag) includes stencil templates, stickers, postcards, and quotes for you to copy, cut out, and use.
Though she addresses the political side of guerilla art--some of her own work addresses her strong feelings against pervasive advertising--Smith explains that guerilla art is about expressing
your own
ideas:
Leave secret messages everywhere you go. Your ideas are interesting. Find yourself through recklessness and freedom. Revel in the idea of impermanence. Create your own world. Give back. Doodle. Listen. Plant. Stroll. Dance. Grow.
Wish Jar Journal
is Keri's blog. Her
website
is also full of good things, like
100 Ideas
,
paper dolls
, and instructions for a
magic book
.